Summit Name: RemaxWorld Summit 2018




Summit Date: October 17, 2018 (Wednesday)




Summit Times:

Session One 9:00AM-12:00PM

Lunch 12:00PM-1:30 PM

Session Two 1:30PM-5:30PM





Summit Venue: Zhuhai International Convention & Exhibition Center




Address: No. 1663, Yin Wan Road, Wan Chai, Zhuhai, Guangdong, China









---
RemaxWorld Summit 2018 introduction
The Summit has been held annually since 2006 during the RemaxWorld Expo. More than 10 industry elites will share their latest insight into patent & legal issues, market trends & analysis, new technologies & products, etc. You can talk to industry experts to arm yourself with practical information on action-oriented solutions you can implement for your business.
【SUMMIT PROGRAM】
Summit Theme:Conflict and Compromise: what are the solutions?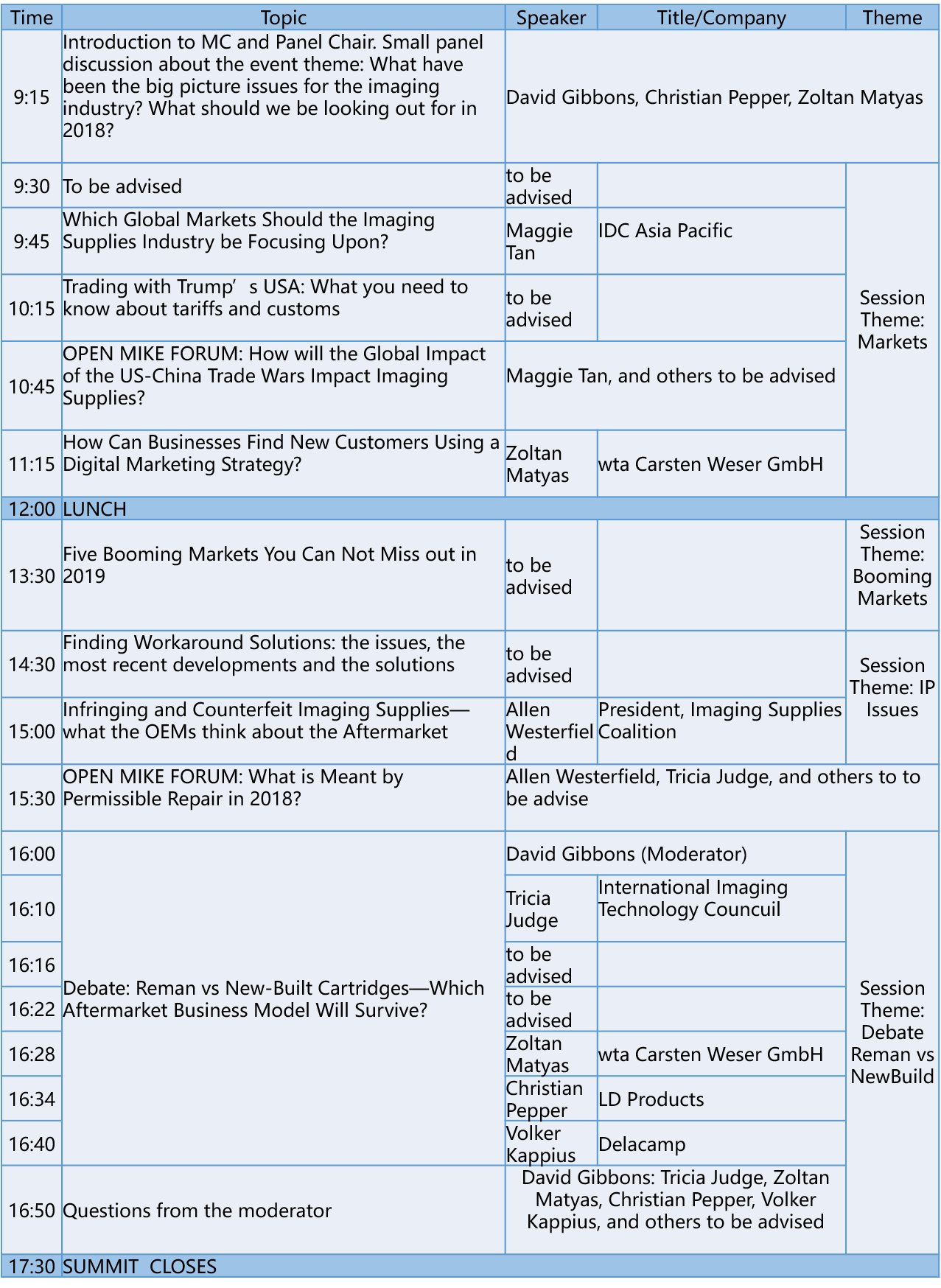 Please note the timetable is subject to updates and last minute changes.
【SUMMIT SPEAKERS】
Tricia Judge

Executive Director, International Imaging Technology Council




Judge has served as the executive director of the International Imaging Technology Council, a not-for-profit trade association serving imaging supplies remanufacturers and dealers, for 17 years. Judge was the executive editor of Recharger magazine. A lawyer for 30 years, Judge also has litigation experience. Judge's work has been published in Recharger, and several other industry magazines, and has won critical acclaim for her writing and industry advocacy.

She has assisted in the preparation of six friend of-the-court briefs. Judge has presented the position of the industry to the International Trade Commission.






Merritt R. Blakeslee

The Blakeslee Law Firm, Washington, D.C., USA

Merritt Blakeslee has practiced in the fields of international law and international trade regulation since 1991. His practice focuses on international trade and specifically on disputes lying at the intersection between international trade and intellectual property law. His principal practice areas include Section 337 investigations at the U.S. International Trade Commisson; Customs counseling, enforcement, and litigation; and anticounterfeiting and trademark protection. He has represented clients in thirteen Section 337 investigations, including investigations brought by Canon and Lexmark. He counsels clients on how to operate legally in the difficult legal environment of the printer consumables aftermarket. He has written and lectured extensively on this topic, particularly in Recycling Times and at imaging summits organized by RT Media.
Christian Pepper

President, Channel Partner Division, LD Products

Pepper has more than 20 years executive and management experience in European and American markets, held leadership, sales and marketing positions within printer
OEMs, hardware and consumables remanufacturers. He is a regular contributor and speaker within the Imaging and Managed Print Service industry.
Zoltan Matyas

Business Development Manager of WTA

Zoltan Matyas has a 15+ year track record in the Imaging Aftermarket, and is an active member of the European remanufacturing industry. He is also an expert in developing digital marketing and social media strategies for both for B2B and B2C operations in and outside of the industry. He holds a University Degree in Digital and Social Media Marketing, as well as being an active practitioner in consulting and developing digital marketing projects for SMEs in various sectors. He is familiar with concepts such as online engagement, community management, digital lead generation, and inbound and content marketing.
【SPONSOR】
Website: http://www.mito.com.cn